Good & Bad Info From Michigan
Torque Arm



Frank & Mike's (Sort of)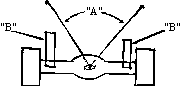 Three Link



OK guys and gals, did you look at my really bad drawings really good? Which one do you like? Mine's the three link. I think all three of them will work pretty good if you get it right. One thing to bet on is that all of them are a lot better than leaf, or stock 1979 Mustang rear suspension. A third generation Camaro torque arm rear end should be pretty good with some small changes.
OK. Yea, I know Grayden has beat me with a basic, stock '79 suspension, but to be honest, I believe he beat the driver of #44, not the car. That makes a big difference on bumpy tracks, where, no matter how good you think you can drive, the car won't stick, it just bounces around. And now a few more points to ponder.
1. Did you know that the center of gravity for a Mustang or Camaro is approximately the height of the camshaft.
2. Did you know the height from the ground to the panhard bar, or to the attaching point of leaf springs, is the rear roll center.
3. Did you know that a big sway bar on the rear will keep the car body from rolling by trying to lift the tire on the inside of the corner off the ground. It seems like this makes for poor traction.
4. Did you know stiff springs will keep the car from rolling without trying to take weight off the other side of the car.
5. Do you know where the height of your car's front roll center is. You better buy a book or a computer disk and find out because if you change the rear roll center the front roll center will have to be changed so that it's lower (about 4"-7") than the rear.
6. The car's front and rear suspension parts should move freely because you want the springs and shocks to do all the work. Unhook the shocks and springs and see if one side or the other will move freely. Don't guess. You might be surprised how much it can bind. (This is not for leaf spring cars because you unhook springs and things and the rear axle will drop on your toe.)
7. Stiff shocks make your car bounce on rough surfaces; more than a very strong spring using a weak shock.
1. 25% of the improvements you make to your car will slow it down.
2. 25% of the well thought out changes you make will improve your time just a little.
3. The rest of the changes will not make any difference that you'll notice.
4. The wise guys at Topeka were asking a lot of questions and looking at everyone else's cars to get ideas for their own. If they add all this together and put it to good use, I will probably be looking under their cars for ideas.
5. One of the hardest things to do is to make one change at a time to your car; then having enough patience to thor-oughly check it out.
6. It was really neat to see 31 CP cars lined up in grid at Topeka. I was proud to be a member of the group.
7. Topeka would be even better if CP had a heat all to itself. So OK guys, next year get even your grandpa to enter the car with you. 45 entries should just about do it.
8. And now food for thought on the debate over having a short or long wheelbase car. At Topeka, first short, second long, third short, fourth long, fifth long, sixth long, seventh short, eighth long, ninth short, and tenth short. And the score is:
Short = 5

Long = 5
And the winner is: Sh*t, there ain't no difference!
9. So, how about arguing over sticks (manual trans.) or automatic (just put lever in "D" for dummy). First, second, fifth, sixth, seventh, eighth, ninth, and tenth are sticks. Third and fourth are automatics.
And, the winner is: Well, you automatic guys will have to go home and start learning how to use both feet and your hands at the same time.
Well, you've heard enough BS from me for the moment, so I will verbally abuse all you guys and gals in the next issue of the CP Newsletter.
#44 CP - Buddie Jasman
The comments are owned by the author. We aren't responsible for their content.